How Site Build It is Helping me Succeed with my Passion... since 2006!
Have you ever thought how I built this Web site working from home in my spare time?
Solo Build It is my secret.
In December 2007 I made this video - with my family's help - to tell about the company that enabled me to share Portuguese tools and resources with people from more than 50 countries. (This number has increased to 170!)

My Dream Was Very Simple...
It always surprised me the attention the news (printed, TV, radio) give to
bad
news. After watching such programs, or reading the newspaper, people usually start thinking - and talking - about the darker side of life...
And waste their valuable time by missing great opportunities!
On the other hand, I also believed there are LOTS of open-minded people around the world willing to help each other by exchanging knowledge, information, wisdom and...
I wanted to be part of this group.
Based upon the principle that knowledge brings freedom, I decided to create a Web site with free information. It would become my 2 cents to help people see the brighter side of life! The only thing I didn't know was that...
My Nightmare Was Just Beginning...
I called a friend of mine - who was a web designer - and shared my ideas with him. He started working on the project, and charged me about $200. Before he had completed the first draft, I came up with tons of new ideas. Every time I phoned him, he would be the one in charge of implementing the changes. Just to start with - I was lacking focus because...
I didn't know who my target market was,


I didn't know which message I could OVER deliver,


I didn't know what people were looking for.
Ironically, though I wanted to set others free by sharing valuable information, my own lack of knowledge was my prision! ;-)
How 'Site Build It' Woke me Up...
In my search for additional knowledge, I dived into the Web and on the Web site of a Brazilian university I found the ebook that would change my life for ever...

(Download the PDF file.
Save it to your desktop.
Double-click it to open!)
After reading it at once - better, 'devouring' it - I decided to give it a try. There was just one small detail left behind... I didn't an international credit card! :-(
Long story short, it was Christmas time, and a great
benefactor from Alaska
became my Santa Claus and gave me the SBI tools as a gift, along with the opportunity to make my dream come true.
While reading the
Action Guide
, I realized how lucky (read 'blessed') I had been by learning English for FREE, and it seemed the right time to pay it forward by creating free resources for Portuguese learners. In January 2006, Learn-Portuguese-Now.com was born... And the rest is history. ;-)
Here is Your Ticket to Financial Freedom...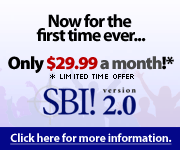 I
f you feel this is the right time for you to give Site Build It a try, you won't need to invest $299 at once. SBI has a special promotion for new-comers.
Check the
SBI! Monthly Billing Option
or keep reading to find the 'proof in the pudding'...
I know dozens of people who are making money online by sharing what they know. I can tell you upfront this is NOT a quick-rich-scheme. Those successful people have developed a set of specific skills and kept working until they built their momentum.
If you want to learn the basics and meet someone who achieved his financial freedom by sharing his knowledge, I highly recommend you to read the
Action Guide
and...
See you on the top! ;-)
From Solo Build It to Homepage